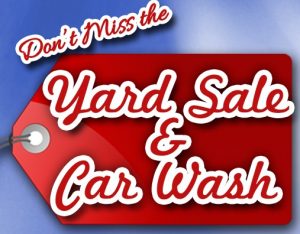 Sat. April 13, from 8am-3pm in PHS Lots D & E (yard sale) and the bus lane (car wash) (Rain Date: Sat. 4/20)
A great opportunity for families to earn money for their band students!
Two ways:
YARD SALE: in Lots D & E (in front of the school – space numbers assigned closer to event)
Participating families are responsible for set up, break down and clean-up of
their spaces. Bring your own tables/displays, chairs, tents, signage/price tags,
sale items and money for making change.
Proceeds from space rentals will go to Band's General London Expense account.
You keep 100% of proceeds from sale of your items.Two steps:
1.  Go here to complete the form to participate in the yard sale.
2. Rent spaces in the Charms store for $15 per two-spaces. Space numbers will be assigned closer to the event date. Again, please
remember not to combine your purchase with band fee or trip 

payments. However, combining yard sale space rental and t-shirt 

orders is fine.
Yard Sale questions can be directed to debbie.nerbonne@gmail.com.
CAR WASH: in bus lane
Each student will receive 10 pre-printed carwash tickets and instructions for handling payments on Mon. 3/18. First turn in date for money is 3/25. Final turn in date is Mon. 4/8.
Students must turn in ONE CHECK for ticket sales (NO CASH OR MULTIPLE CHECKS) along with any unsold tickets. Students who sell all their tickets by the first turn in date are eligible to sell more tickets.
Students get 50% of ticket sales toward their trip or fees. Cash prizes awarded to the top two sellers.
Car wash volunteer sign up on Charms in the next couple of weeks, watch Mr. Atha's emails. Student workers will receive service points for working the car wash.