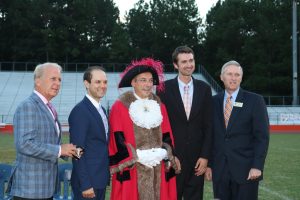 It is with great honor that we announce that the Parkview High School Marching Band has been selected to attend the 2020 London New Year's Day Parade! We are only the 3rd school from Gwinnett County to be chosen for this prestigious parade.Our students will travel over seas at the end of 2019 to perform and take part in a cultural exchange. The London NewYear's Parade is the world's largest parade with 650,000 patrons on site and 500 million viewers viewing on broadcast networks across the world.Our band will prepare many musical selections plus formations to be presented during the parade. Our students will practice after school for several months leading up to the parade and our parents will be working hard in the background to help us get to London.
As you know, international travel, especially at this magnitude, is expensive. We estimate raising $25,000 to cover necessary expenses for the trip. In addition to this,we hope to provide our students with a discounted travel rate as a result of fundraising efforts on our part. Corporate and private donations will constitute a large portion of our fundraising efforts. We humbly ask for you to consider a donation to our program to help us cover the cost of sending our students overseas for this once in a life time event. Your donation will be to the Parkview Band Boosters Association,a 501(c)(3) tax-exempt organization. Your donation may be tax deductible and a donation receipt will be provided for any donation.
Donations can be given to your contact with our organization or mailed to our address at:
Parkview Band Booster Association
PO BOX 871131
Stone Mountain,GA 30087
Donations can also be accepted with credit card on our Facebook page for no fee! Go to http://www.facebook.com/parkviewband and click on the blue donate button!
Other ways you can support our program:
Read about the Lord Mayor's visit