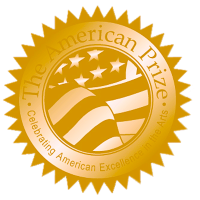 The 2015 Symphonic Band applied for The American Prize in wind ensemble performance. We are honored to be selected as a finalist for this award along with being selected as "Honorable Mention" in the final round. The American Prize is a series of new, non-profit national competitions in the performing arts providing cash awards, professional adjudication and regional, national and international recognition for the best recorded performances by ensembles and individuals each year in the United States at the professional, college/university, church, community and secondary school levels.
You can learn more about this prestigious national competition at theamericanprize.org or follow the news on Facebook.
Congratulations to our symphonic band on their outstanding work and dedication to music!