Parkview High School Band Awards
National, State, and Local Recognition
Sudler Flag Award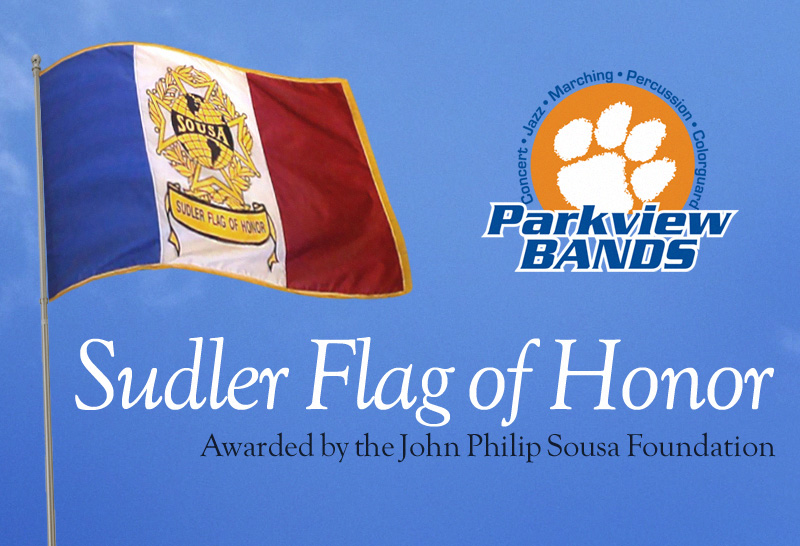 In 2005, Parkview High School Band under the direction of Mr. Allen Beach was awarded the Sudler Flag of Honor by the John Philip Sousa Foundation. The Sudler Flag is an international award recognizing concert bands of outstanding musical excellence. Parkview High School is one of 4 schools in the State of Georgia and 68 in the world to receive this award. The criteria for this award are very stringent as detailed by the Sousa Foundation:
The band must have achieved and maintained a high standard of excellence in the concert area over a period of several years.
The concert band will have placed itself in situations where there has been opportunity for evaluation by qualified persons or has been rated "superior" at state, regional, or national levels in concert activities.
The band program must offer its participants a complete and balanced program of musical activities including concert, solo, ensemble, and marching areas.
The band should have performed at regional, state, national, and professional meetings of significance. These can include but are not limited to state music conventions, regional or national MENC meetings, and state or national band association conventions.
The director must have been incumbent in his/her position for at least seven years, including the current year.
A number of the students in the band should have participated in district and all-state honor bands or similar all-area groups.
In addition to this award, Parkview High School has been placed on the Historic Roll of Honor of High School Concert Bands. This lists recognizes historic high school concert bands of very particular musical excellence.
For more information, please visit the John Philip Sousa Foundation.
Read Georgia Senate Resolution 1313 and Georgia House Resolution 2063 honoring the Parkview High School Band.
American Prize in Wind Ensemble Performance

In 2015, the Parkview Symphonic Band applied for The American Prize in wind ensemble performance. We were honored to be selected as a finalist for this award along with being selected as "Honorable Mention" in the final round. The American Prize is a series of new, non-profit national competitions in the performing arts providing cash awards, professional adjudication, and regional, national and international recognition for the best recorded performances by ensembles and individuals each year in the United States at the professional, college/university, church, community, and secondary school levels.
You can learn more about this prestigious national competition at theamericanprize.org or follow the news on Facebook.
Mark of Excellence
In 2016, the Parkview Symphonic Band was selected as a State of Georgia winner in the Mark of Excellence
Recorded Music Contest. The Mark of Excellence project seeks to recognize and award outstanding achievement in performance by high school and middle school bands. The project gathers entries from throughout the United States and provides valuable feedback for all entrants. A unique competitive environment is created which allows ensembles to compare their performance quality to other outstanding groups from across the country.
You can find out more about the Foundation for Music Education at http://foundationformusiceducation.org/ 
London New Year's Day Parade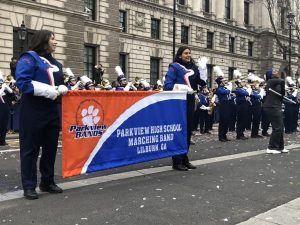 In 2020, the Parkview Marching Band performed in the world's largest parade held on New Year's Day in London, England. We were incredibly honored to play on the international stage for an audience of over 500,000,000 people!