GEORGIA MUSIC EDUCATORS ASSOCIATION
IN-SERVICE CONFERENCE
JANUARY 29, 2022 | 8:45AM
Conductors Jessie Matthews & Robert Davidson
130 Killian Hill Rd SW, Lilburn, GA 30047
---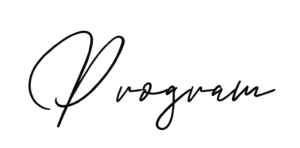 GATES OF ORION | Michael Sweeney
Gates of Orion is written as an extended fanfare. The bold first section uses fanfare-like themes while the percussion section highlights impact points. The primary melody is stated by the clarinets and then developed throughout using a "theme and variation" format. The final section begins with a fragment of the main theme being passed around to several sections, followed by the return of rhythmic elements from the first section which lead to a powerful ending.

LANIAKEA | Jack Wilds
In 2014 scientists redefined the Milky Way galaxy's place in the universe, determining its location in a massive supercluster of over 100,000 nearby galaxies. The team from the University of Hawaii also produced a map, in which the Milky Way is rendered as a tiny dot near the center of a spider web of star systems. They named this structure Laniakea: Hawaiian for "immeasurable heaven."
I stared at this picture for a long time. I imagined being able to truly see every aspect of this structure from a zoomed out perspective, floating in a space suit. This piece is meant to portray the emotions that might accompany such an experience.
Program Notes from the Composer

ESPAÑA CAÑI | Pascual Marquina Narro/Arr. Michael Story
España Cañi (literally, "Gypsy Spain") is a well-known Paso Doble by Pascual Marquina Narro (1873-1948). The Paso Doble (meaning "double step") is a type of Spanish march that is performed at bullfights, usually when the participants enter the bullring.

SUNCHASER | Carol Brittin Chambers
The term "sunchaser" or "chase the sun" can have various meanings, depending on the context. For example, in aviation, if a pilot heading west flies fast enough so that the sun does not move on the horizon, he is a sunchaser. The term can also mean chasing after something that's rather unattainable, or it can refer to someone who is quite idealistic or inspirational.
I chose this title for a couple of reasons. First, I simply love the sun and the energy it provides me and all of nature. I have many vivid memories of taking long road trips in my youth. Often, my family and I would be heading west to the mountains. We always tried to leave early enough in the day so that we wouldn't be staring too much into the sun, and we wanted to arrive at our destination before dark. I remember watching the sun as we chased it down the road, feeling like we were on a journey together.
On a deeper level, I like to think more in terms of following dreams and trying to reach lofty goals. Even though some of these goals may seem out of reach at times, the journey definitely makes us stronger and is often the best part!
The opening few measures are meant to portray the dawn of a new day, which quickly turns into a spirited adventure full of energy and life.

STARBURST | Mark Lortz
Starburst was written to celebrate the 2017 Johnston County Eighth Grade All-County Middle School Honor Band in Benson, North Carolina. The composition features all sections of the ensemble. It begins with a driving introduction that moves into a woodwind and horn feature and then highlights the trumpet section. A brief woodwind interlude occurs followed by a transition to the final recapitulation.
---



---

---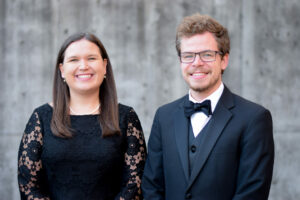 JESSIE MATTHEWS
Jessie Matthews is in her fourth year as Co-Director of Bands at Trickum Middle School in Lilburn, Georgia. A native of Elberton, Georgia, Ms. Matthews graduated summa cum laude from the University of Georgia with a Bachelor of Music Education degree in 2012. During her time at UGA, she studied trumpet with Dr. Brandon Craswell and David Bilger of the Philadelphia Orchestra. She was a member of the UGA Wind Ensemble, Symphony Orchestra, Jazz Band, and Redcoat Marching Band where served as section leader and Battle Hymn Soloist for three years. Upon graduation from the University of Georgia, Ms. Matthews began her teaching career as the Assistant Director of Bands at Norcross High School in Norcross, Georgia, where she taught from 2013 to 2018. Matthews earned a Master of Arts in Band Conducting from the American Band College in 2017 and is a recipient of the National Band Association Citation of Excellence. Her professional affiliations include the National Association for Music Education, Georgia Music Educators Association, and the National Band Association.
ROBERT DAVIDSON
Robert Davidson is in his fourth year as Co-Director of Bands at Trickum Middle School. Davidson is from Cartersville, Georgia where he graduated from Woodland High School. He later graduated from the University of Georgia where he received his Bachelor's in Music Education. While at the University of Georgia, Davidson served as a Trumpet Section Leader, Battle Hymn Soloist, and Drum Major of the Redcoat Band. He also studied trumpet under Dr. Brandon Craswell and conducting under Dr. Jaclyn Hartenberger. Davidson completed his Master's in Music Education from Georgia College in the summer of 2021 and he is also a National Band Association Citation of Excellence recipient. Davidson plays in the trumpet section of Tara Winds and actively serves as a clinician and adjudicator for band and conducting. His professional affiliations include memberships in Phi Mu Alpha Sinfonia, the Georgia Music Educators Association (GMEA), the National Association for Music Education (NAfME) and the National Band Association (NBA).
---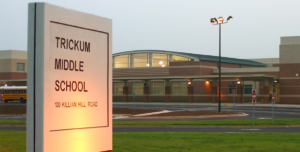 TRICKUM MIDDLE SCHOOL is located in Lilburn, Georgia and is a part of Gwinnett County Public Schools. It originally opened in 1975 and served 1,037 students. The new building opened in 2006 and currently serves a widely diverse population of over 2,200 students. Trickum Middle School is the only school that serves Parkview High School along with four feeder elementary schools, Arcado, Camp Creek, Knight and Mountain Park.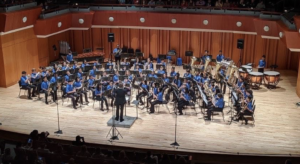 The TRICKUM MIDDLE SCHOOL BAND program serves 350 students in 6th through 8th grade. Our students have the opportunity to participate in grade level concert bands, the Swingin' Tigers Jazz Band, and the Tiger Pep Band. Students may also audition to perform with our honor ensemble, Symphonic Winds, which practices after school two days a week. Created in 2017, Symphonic Winds represents the Trickum Band Program around the community, and has most recently performed at the University of Georgia Middle School Band Festival as a Guest Band in 2019 and the Georgia Music Educators Association In-Service Conference in 2021.
---
Symphonic Winds Class of 2023
Gwinnett County Band Directors
Trickum Middle School Administration, Faculty, and Staff
Parkview High School Band Directors
Carlos Franco
Lance Kindl
Host, Josey Jimenez
Guest Conductor & Mentor, Travis Downs
Sectional Coaches:
Frank Folds
Josey Jimenez
Lindsey Kindl
Melissa Rolon-Mitchell
Cassidy Brown
Jennifer Gebczyk
Bryan Green
Macy Dominey
Sarah Willoughby
Nick DiPaola
Kevin Johnson
Harrison Boone
Corey Fair
Mark Little
Kevin Schoeller
Katy Wilson-Fields
Program Designer, Lydia Wilson-Fields