GEORGIA MUSIC EDUCATORS ASSOCIATION
IN-SERVICE CONFERENCE
JANUARY 29, 2022 | 8:45AM
CONDUCTORS Jessie Matthews & Robert Davidson
GUEST CONDUCTOR Travis Downs
---

Welcome to the 2022 GMEA In-Service Conference Performance by the Trickum Middle School Symphonic Winds! Words cannot describe how proud we are of our students. The journey to get here has been challenging, to say the least. These students have overcome obstacles that we would have never imagined two years ago, such as learning to play an instrument over Zoom and navigating virtual and concurrent rehearsals for over a year before finally returning this school year to a full ensemble setting. As directors, we would like to say a huge "THANK YOU" to our students for tackling each curveball thrown at them with an open mind and a great attitude. You are all such wonderful musicians and people. It is an honor and a privilege to be able to make music with you.
We would like to take this moment to not only acknowledge the hard work put forth by the students on stage, but also the students and music educators across the state. We may teach in different areas and experience different challenges, but we are all working towards the same goal of inspiring young musicians. None of this would be possible without the support and collaboration of our fellow music educators, now more than ever. Thank you for all that you do each day for your students and for our profession.Your hard work and dedication is appreciated by your students and community more than you could ever know.
---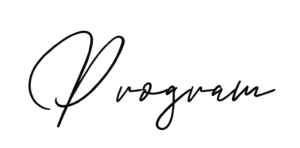 GATES OF ORION | Michael Sweeney
Gates of Orion is written as an extended fanfare. The bold first section uses fanfare-like themes while the percussion section highlights impact points. The primary melody is stated by the clarinets and then developed throughout using a "theme and variation" format. The final section begins with a fragment of the main theme being passed around to several sections, followed by the return of rhythmic elements from the first section which lead to a powerful ending.
Program Notes from the Publisher

LANIAKEA | Jack Wilds
In 2014 scientists redefined the Milky Way galaxy's place in the universe, determining its location in a massive supercluster of over 100,000 nearby galaxies. The team from the University of Hawaii also produced a map, in which the Milky Way is rendered as a tiny dot near the center of a spider web of star systems. They named this structure Laniakea: Hawaiian for "immeasurable heaven."
I stared at this picture for a long time. I imagined being able to truly see every aspect of this structure from a zoomed out perspective, floating in a space suit. This piece is meant to portray the emotions that might accompany such an experience.
Program Notes from the Composer

ESPAÑA CAÑI | Pascual Marquina Narro/Arr. Michael Story
España Cañi (literally, "Gypsy Spain") is a well-known Paso Doble by Pascual Marquina Narro (1873-1948). The Paso Doble (meaning "double step") is a type of Spanish march that is performed at bullfights, usually when the participants enter the bullring.
Program Notes from the Arranger

STARBURST | Mark Lortz
Starburst was written to celebrate the 2017 Johnston County Eighth Grade All-County Middle School Honor Band in Benson, North Carolina. The composition features all sections of the ensemble. It begins with a driving introduction that moves into a woodwind and horn feature and then highlights the trumpet section. A brief woodwind interlude occurs followed by a transition to the final recapitulation.
Program Notes from the Composer
---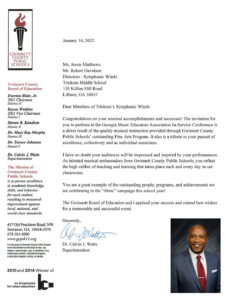 ---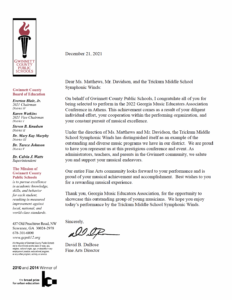 ---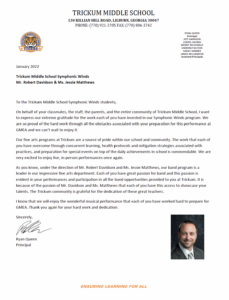 ---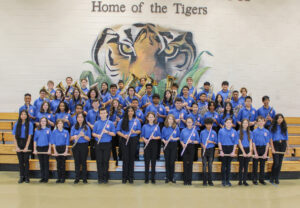 FLUTES
Gedion Bezabih
Selma Bojcic
Olivia Brown
Grace Gebczyk
Hamna Imran
Matthew Ionescu
Nehimiah Teshome
Amber Yang
OBOES
Sosuna Bereket
Hannah Bui
Camille Stephens
BASSOON
Louie Lawless
CLARINETS
Helena Bizu
Theodor Busuioc
Evan Chen
Kevin Dang
Myra Dang
Sarah L'Heureux
Winifred Ovbude
Nicholas Ramirez
Sanjay Srinivasan
Divit Taval
Nathan Teshome
BASS CLARINET
Juan Padilla-Espinoza
ALTO SAXOPHONES
Simon Anteneh
Harrison Robinson
TENOR SAXOPHONES
Juju Marmalejo
Isabelle Tinker
TRUMPETS
Julien Al-Haj
Lilah Cudmore
Ethan Dosani
Ian Dosani
Keith Eplett
Madi Pak
Maya Saldana
Gimmy Samson
HORNS
Kyle-Anthony Glenn
Barbary Singletary
Ella Yang
TROMBONES
Plabon Dey
Ben Garcia
Alexander Hernandez
Logan Mercer
EUPHONIUMS
Asa Brock
Gerardo Gonzalez-Rangel
Casey Kener
Madelyn Pham
Steven Powell
TUBAS
Sneet Andeab
Andy Herrera
Josh Martinez
PERCUSSION
Ziya Darvesh
Caroline Jowers
Claire Kilts
Laily Leung
Rosalyn Newton
Lillie Robinson
Drew Rouk
Beau Smith
---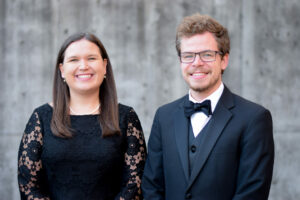 Jessie Matthews and Robert Davidson
JESSIE MATTHEWS
Jessie Matthews is in her fourth year as Co-Director of Bands at Trickum Middle School in Lilburn, Georgia. A native of Elberton, Georgia, Ms. Matthews graduated summa cum laude from the University of Georgia with a Bachelor of Music Education degree in 2012. During her time at UGA, she studied trumpet with Dr. Brandon Craswell and David Bilger of the Philadelphia Orchestra. She was a member of the UGA Wind Ensemble, Symphony Orchestra, Jazz Band, and Redcoat Marching Band where served as section leader and Battle Hymn Soloist for three years. Upon graduation from the University of Georgia, Ms. Matthews began her teaching career as the Assistant Director of Bands at Norcross High School in Norcross, Georgia, where she taught from 2013 to 2018. Matthews earned a Master of Arts in Band Conducting from the American Band College in 2017 and is a recipient of the National Band Association Citation of Excellence. Her professional affiliations include the National Association for Music Education, Georgia Music Educators Association, and the National Band Association.
ROBERT DAVIDSON
Robert Davidson is in his fourth year as Co-Director of Bands at Trickum Middle School. Davidson is from Cartersville, Georgia where he graduated from Woodland High School. He later graduated from the University of Georgia where he received his Bachelor's in Music Education. While at the University of Georgia, Davidson served as a Trumpet Section Leader, Battle Hymn Soloist, and Drum Major of the Redcoat Band. He also studied trumpet under Dr. Brandon Craswell and conducting under Dr. Jaclyn Hartenberger. Davidson completed his Master's in Music Education from Georgia College in the summer of 2021 and he is also a National Band Association Citation of Excellence recipient. Davidson plays in the trumpet section of Tara Winds and actively serves as a clinician and adjudicator for band and conducting. His professional affiliations include memberships in Phi Mu Alpha Sinfonia, the Georgia Music Educators Association (GMEA), the National Association for Music Education (NAfME) and the National Band Association (NBA).
TRAVIS DOWNS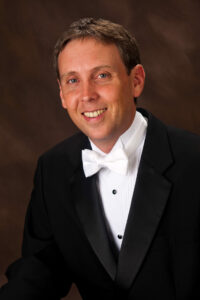 Travis Downs has been sharing his love of music with students for twenty-one years. He is currently in his ninth year at North Gwinnett Middle School (NGMS) – recently named "Music Program of the Year" by the Georgia Music Educators Association. Before his appointment at North Gwinnett in 2013, Mr. Downs served as the Director of Bands at Valdosta Middle School (VMS) in Valdosta, Ga., Assistant Band Director at VMS, and Assistant Band Director at Tapp Middle School in Cobb County, Ga.
Ensembles under Mr. Downs' direction have been invited to play at the Midwest Band and Orchestra Clinic, the Sandy Feldstein National Percussion Festival, the Music for All Southeastern Regional Concert Festival, the Georgia Music Educators Association Annual In-Service Conference, the University of Georgia Middle School Festival, and the Grand National Adjudicators Invitational. In addition, the VMS and NGMS Band programs have been the recipient of the GMEA "Exemplary Performance Award."
A six-time recipient of the National Band Association's Citation of Excellence award, Mr. Downs is a member of the Vic Firth Educational Team and a Yamaha Artist/Clinician. For GMEA, Mr. Downs has served as the District 13 Middle School Band Chair and has been a member of the All-State Band Standing Committee. He is currently the State Chair for the Band Division.
Mr. Downs' professional affiliations include the National Association for Music Education, the National Band Association, the Georgia Music Educators Association, Phi Beta Mu, Pi Kappa Lambda, and the Percussive Arts Society.
Mr. Downs earned his Bachelor of Music Education degree from the University of Georgia and Master of Music degree in Percussion Performance from Louisiana State University.
---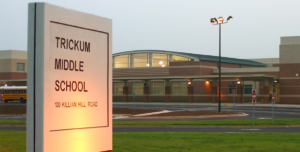 TRICKUM MIDDLE SCHOOL is located in Lilburn, Georgia and is a part of Gwinnett County Public Schools. It originally opened in 1975 and served 1,037 students. The new building opened in 2006 and currently serves a widely diverse population of over 2,200 students. Trickum Middle School is the only school that serves Parkview High School along with four feeder elementary schools, Arcado, Camp Creek, Knight and Mountain Park.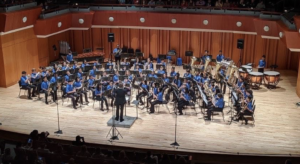 The TRICKUM MIDDLE SCHOOL BAND program serves 350 students in 6th through 8th grade. Our students have the opportunity to participate in grade level concert bands, the Swingin' Tigers Jazz Band, and the Tiger Pep Band. Students may also audition to perform with our honor ensemble, Symphonic Winds, which practices after school two days a week. Created in 2017, Symphonic Winds represents the Trickum Band Program around the community, and has most recently performed at the University of Georgia Middle School Band Festival as a Guest Band in 2019 and the Georgia Music Educators Association In-Service Conference in 2021.
---
Symphonic Winds Class of 2023
Gwinnett County Band Directors
Trickum Middle School
Administration, Faculty, and Staff
Parkview High School Band Directors
Carlos Franco
Lance Kindl
Student Teacher, Mikala Brown
Host, Josey Jimenez
Guest Conductor & Mentor, Travis Downs
Sectional Coaches:
Frank Folds
Josey Jimenez
Lindsey Kindl
Melissa Rolon-Mitchell
Cassidy Brown
Jennifer Gebczyk
Bryan Green
Macy Dominey
Sarah Willoughby
Nick DiPaola
Kevin Johnson
Harrison Boone
Corey Fair
Mark Little
Kevin Schoeller
Katy Wilson-Fields
Program Designer, Lydia Wilson-Fields